I know that I've already been lucky enough to do a couple of great photoshoots with my Carmilla costume, but Hime no Toki and her man are bringing their D and Leila costumes to AWA and it would be so much fun to do some photos with them! Good vs Evil shots rawwr!
Hence, I propose: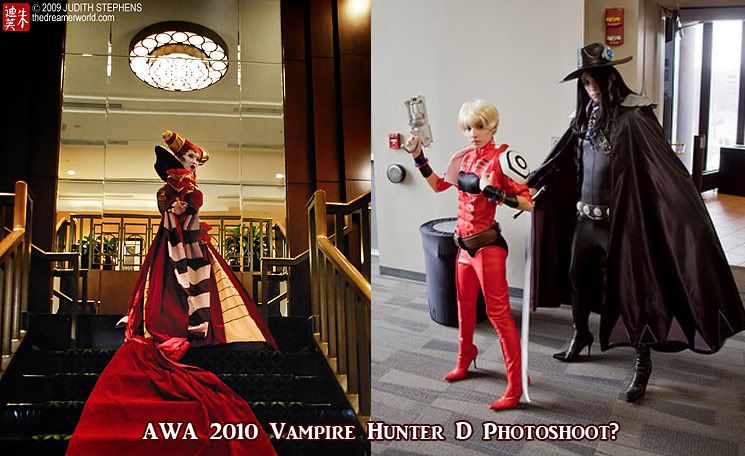 Currently seeking interested photographers to stage some photos with us!
With the staircase in the convention center we could get some epic shots! Please leave a comment or contact me directly if you're free on Sunday and interested in some vampire hunting action.
Because AWA is one of my favorite cons and I'm running around like mad on Friday and Saturday between booth, panels and hosting the contest, and I'm sure Janet's crew has a lot going on too, I'm thinking that we should do the VHD shoot on Sunday. I know makeup work is involved for both D and Carmilla and I needed 3 hours last time to get ready O_O;.
So if everyone if cool with it, I'd say we should meet at
11am or noon on Sunday, Waverley hotel lobby.
I also will need a handler
to help me straighten the skirts and train, not sure if anyone would be interested in tagging along?
If anyone else has a Vampire Hunter D costume and wanted to join our group, please leave a comment or contact me directly!
Thanks in advance!