Thought I'd post my San Diego Comic Con schedule here since I've been slaving away on 3 new costumes for it. SDCC is the only convention where I am not chained to a booth so I'm ready to go nuts!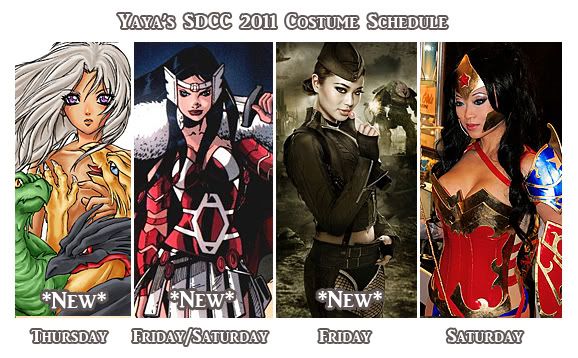 Wednesday: Flying in for Preview Night - no costumes of course, just going to drool over the new goodies on display!
Thursday: Daenerys Targaryen (book version) from A Song of Ice and Fire - I'm going to TRY to go to the Game of Thrones panel
no costumes in the afternoon as I want to SHOP!
(Need to add that I don't know who did the fanart of Dany but the dragons are so cute!)
Friday: 10am - 12:30pm modeling at Anovos booth in Star Trek TOS red dress
1pm modeling at Gentle Giants booth
afternoon Amber from Sucker Punch (stalking the Bunny Mech)
and Sif from Thor (comic book version) for photos
Saturday: Sif from Thor, 1pm judging the costume contest at Marvel booth,
afternoon Ame-Comi Wonder Woman
Sunday: No costumes, gotta head back home since Otakon is the following weekend (egads!)
I'll also be modeling at the Lucas Film party and rocking it out at various other parties at night. I'm also supposed to be in the Morgan Spurlock documentary about Comic Con but who knows how they cut and edited the footage they shot of me last year... lol.
Since I have three new costumes, I am open for photoshoots and groups if they line up time wise. I'm very excited to see old friends, go shopping, eat great food and geek out at the mecca of the fandom world!