This about sums up Katsucon for me.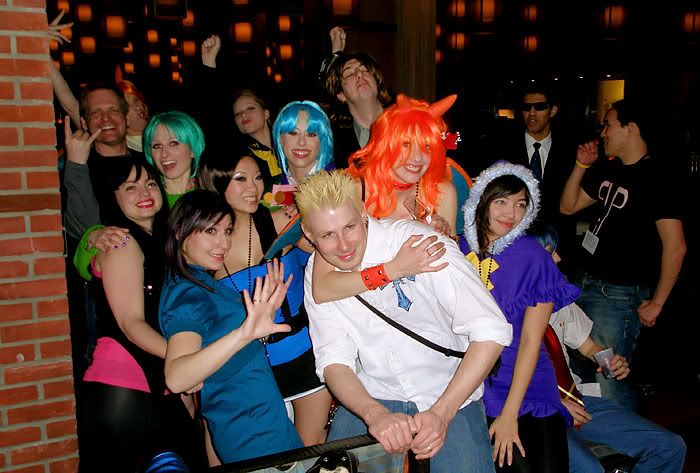 Katsu went by way too fast! I had an amazing time partying on Thursday, Friday AND Saturday nights and our booth did good also giving the snow/expensive location.
We arrived safely on Thursday afternoon after a long 12 hour ride all the way up from Atlanta, checked into the hotel and rested for a couple of hours before going to set up the booth. First impression of the Gaylord hotel and Katsu organization was not really positive... but once we got the majority of the booth set up, we felt better and more relaxed. I missed out on dinner with people but mustered up enough energy to go downstairs with Leonard, Lada and Vince to meet a bunch of other friends like Mandy and Matt, Jaimie and Josh, Ronin Chris, Sam, the Cupcakes, and whoever else happened to come around and be at the hotel early already. Mandy gave us Valentine's cookies (awww) and Leonard took us up to the roof top lounge POSE, which I ended up spending much of my weekend in lol.
It was lovely to chill, have a drink and catch up with everyone, and I managed to stay awake until past midnight, which meant I'd been up for over 35 hours at that point (minus a couple of hours napping in the car.)!
First set of photos are snow pics taken on my phone on the way into DC.
I've literally never seen this much snow, in my entire life...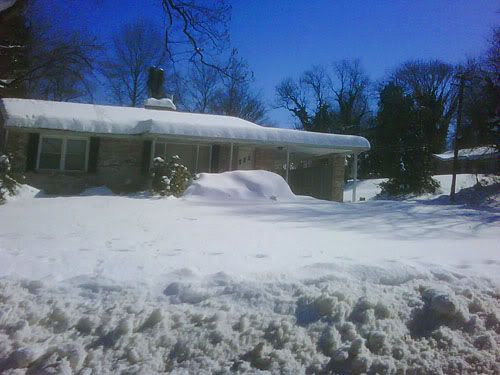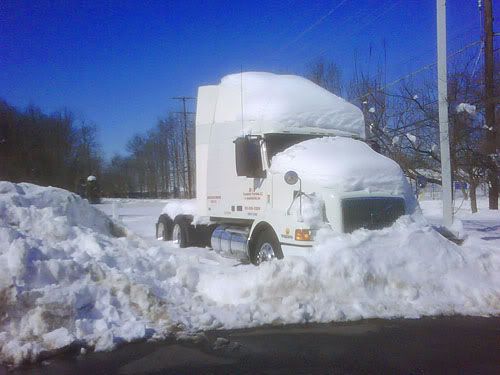 The icicles killed me. SERIOUSLY??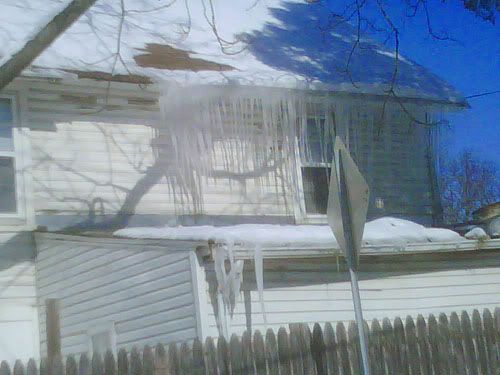 The two awesome guys who helped me drive: Jay and Snow Monster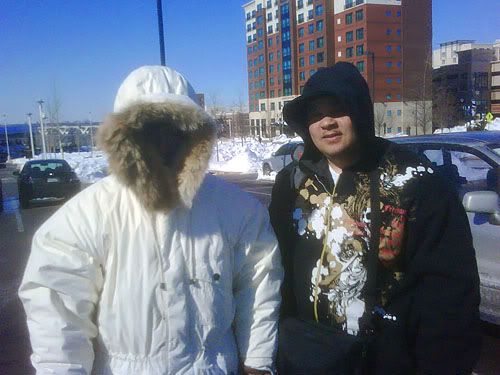 Friday morning we got up at 9am and I threw the new costume I made in under 5 hours. Jill Valentine. It was super comfy and a great easy costume to work the booth in. Our almost done booth set up:
With a super cute Melissa Diaz browsing <3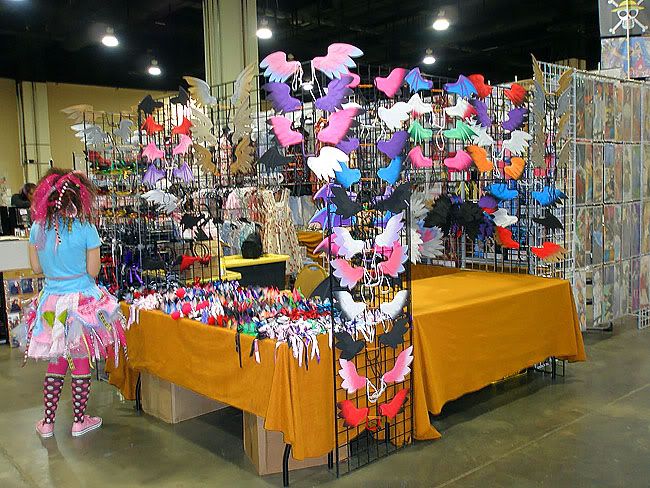 Our rack o' hats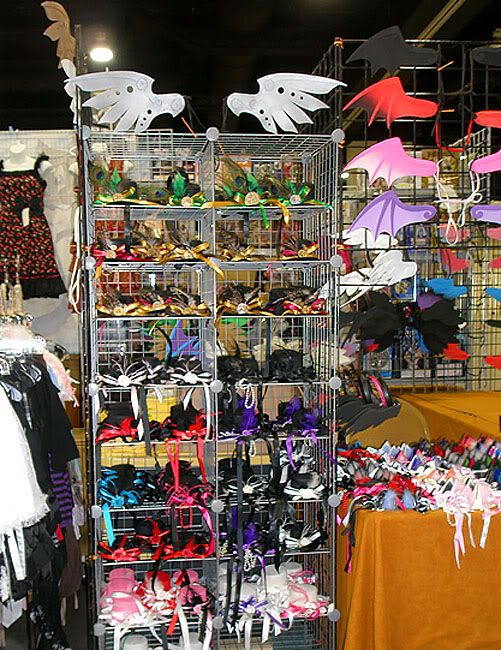 I basically spent the entire day at the booth selling and gauging how well our new products were doing. It seems like people really liked the new Steampunk Wings:
(modeled by Felicia and Melly)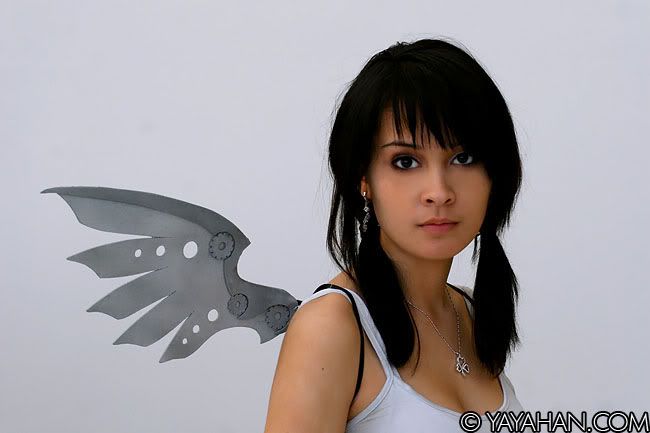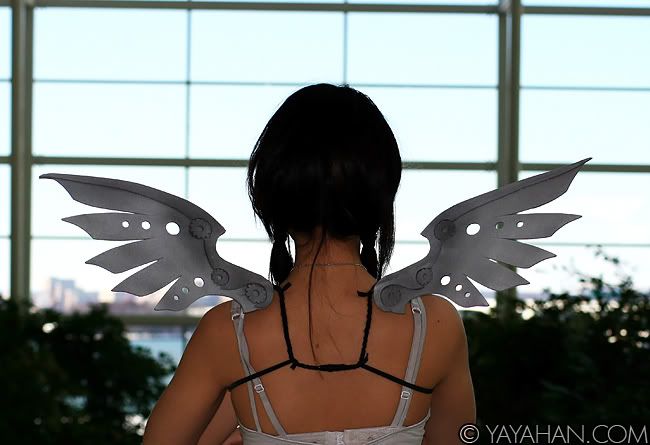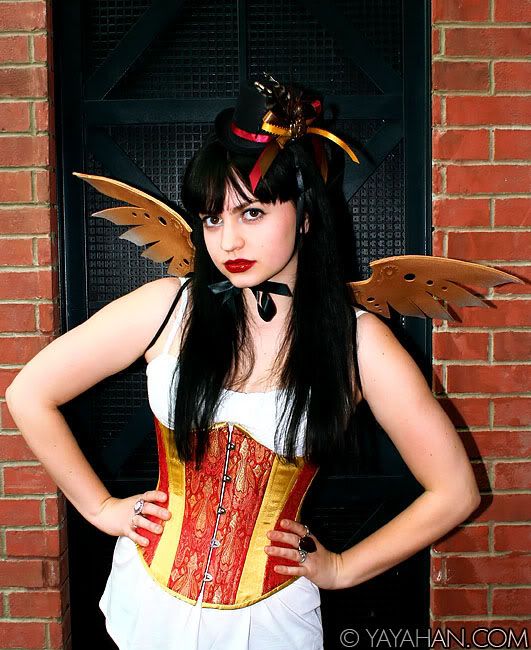 I added them to my website's store and Etsy here:
www.etsy.com/view_listing.php?…
Next to add are the little Steampunk Hats I made...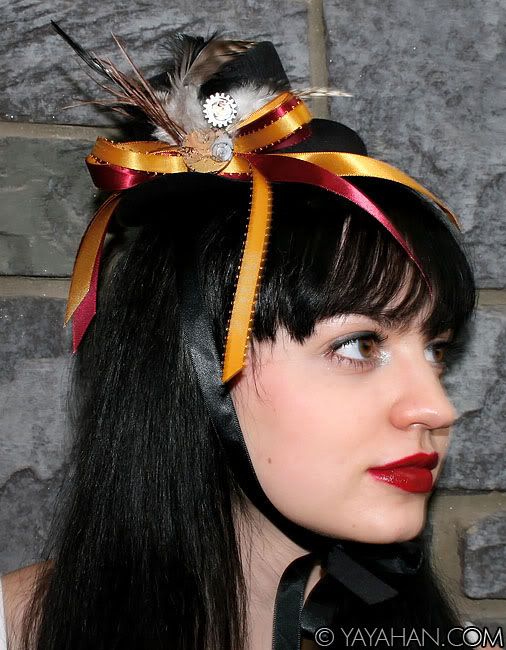 ...and the small head wings I've been putting off making for months because of the overloaded con schedule last year.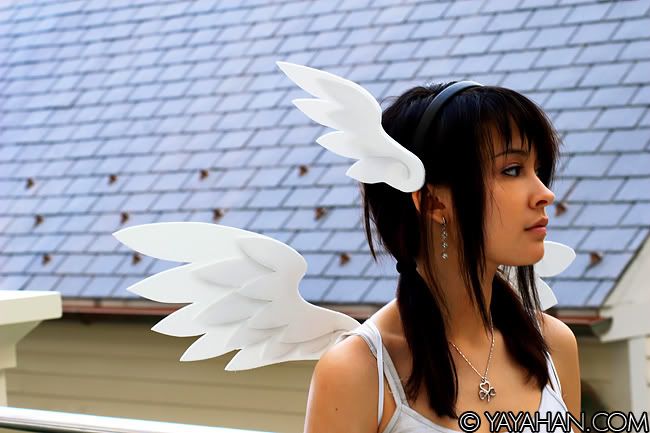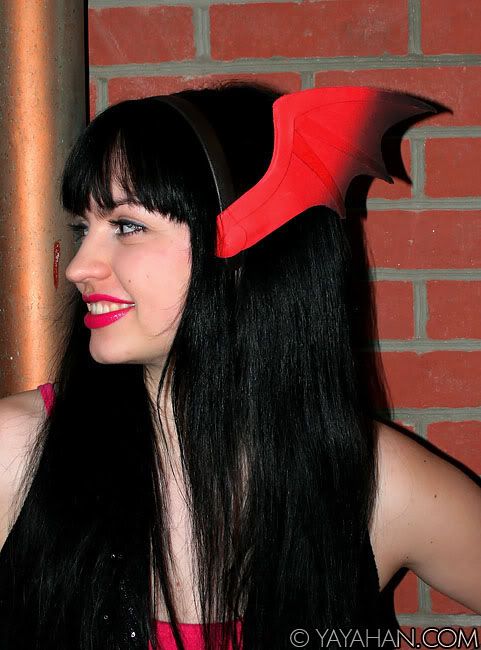 All the above will come in many different color combos.
After the booth closed, we scarfed down some take out Chinese (it wasn't good...) and Melly and I went on a drinking hop from our room to Anna's room to Yuffiebunny's room to the Anime Remix table at the patio bar lol. 4 drinks later, it was time to surprise Mandy for her B-day at Moonbay down in the Atrium! It seems like everyone was there which was AWESOME! I only remembered to get a few photos but here they are!
Alternate drunking group pic. Josh is the only one who looks sober still...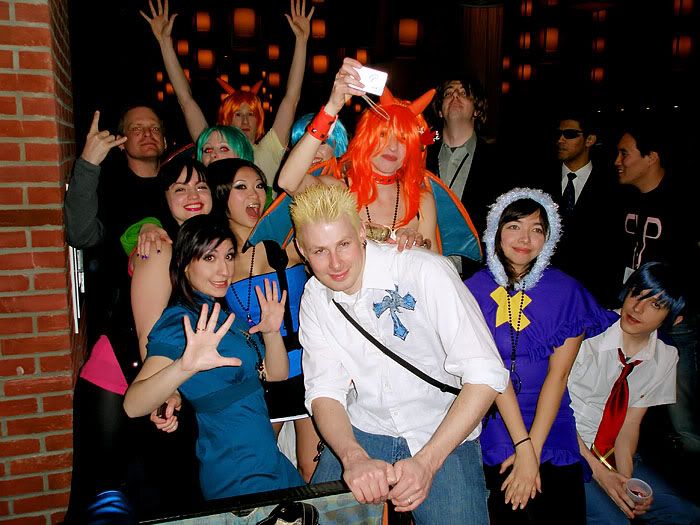 With Miko and Anna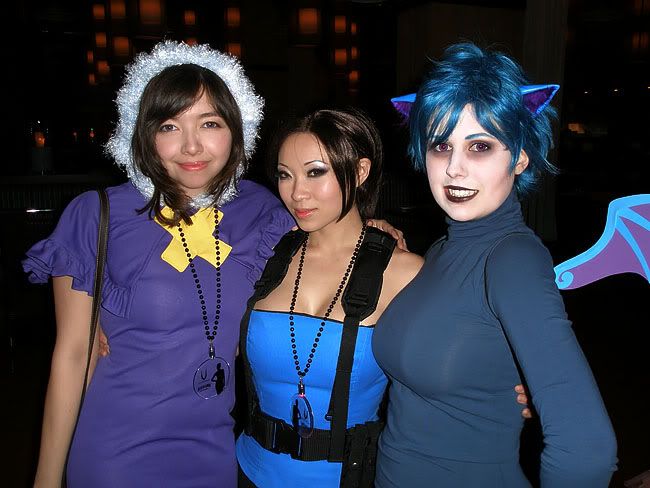 I don't know what's happening in this photo!!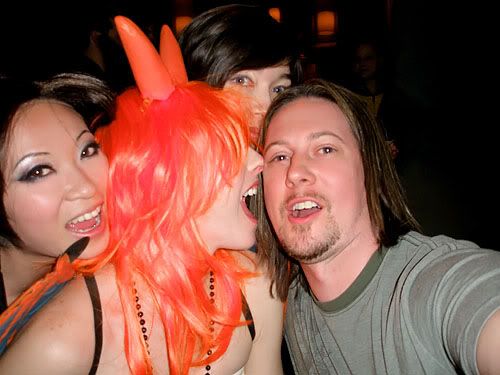 Phone pic: Melly and I after a drink or two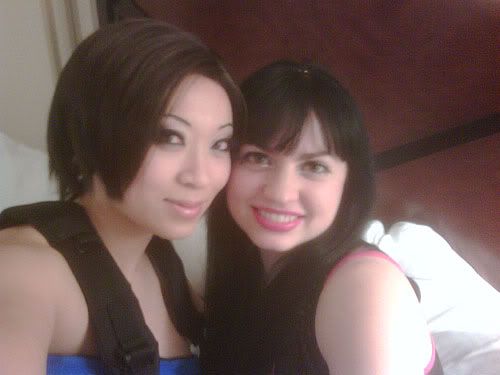 Phone pic: Making out with a giant Teddy Bear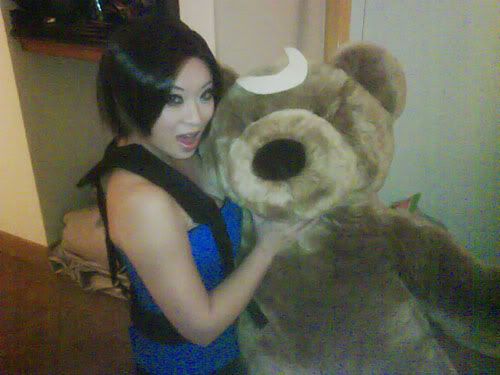 Phone pic: Cat/Bayonetta came to visit!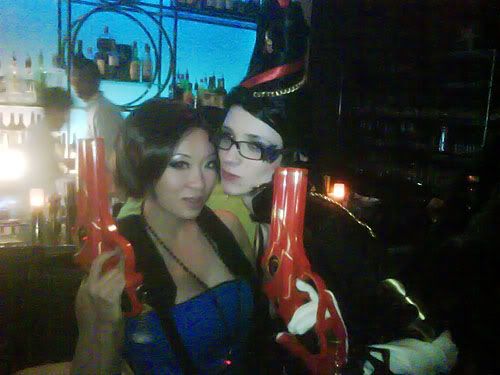 Phone Pic: Then Lady Gaga arrived!!!
Phone pic: Miko and I pretty far gone.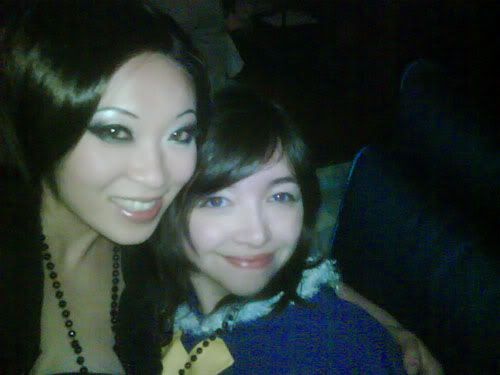 I think I passed out sometime after 1 or 2am, got back up at 8 to get ready for the booth opening. Melly, Brian and I were kept busy for most of the day but when things slowed down toward the end, I went ahead and changed into Gothic Princess (how I put everything including the wings on by myself if beyond me...) for photos in the snow, which is how the original artwork is depicted. Sadly that didn't work out so well because there was TOO much snow. I sunk in to my knees and it was comical and FREEZING at the same time. So Darkain/Vince did a shoot with me indoors in the Atrium and by the Gazebo. Thank you so much! Afterward I kept getting stopped and Shiroin/Ricky took some time out to shoot with me as well, which I really appreciated as he was all waiting on his dinner! Then after that I kept running into more friends and chatting, and smacking people with my wings, and Leonard bumped into me and we did some photos together as well! I will never be short on nice pics of this costume after Katsu!
Here are a couple of preview shots I got back: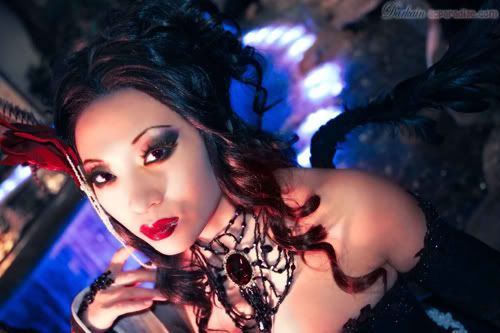 I love them, thank you again so much!
Around 9pm I made it back to the room and changed into my partying gear. We were supposed to meet a bunch of people downstairs by the fountain but took a detour up to POSE for a drink with Bunny, Kelly and their crew. Every time we got ready to head back down, someone else was coming up until we ended up staying there the entire night. Which was fine by me because the seats were comfy, they had music, the view was great, and one of the bartenders made a mean Bloody Mary. Sometime toward the end of the night someone suggested to check out the men's room because they had floor length windows and the best view of the hotel. 5 or 6 of us girls decided to check out said view and we ended up busting in on a guy whizzing. Security made us leave, then threatened to kick us out of the bar if we did it again. My response was:" No worries, we're not going back, it smelled." Then while we were dancing, the guy who we busted in on while doing his business came up to me and tried hit on me, and I just went "No-uh!" and hid behind one of the guys in our group on the couch. Seriously? You thought we had a connection through me coming into the men's room? Yuck!
Here, have some more drunken pics:
Anna and Alex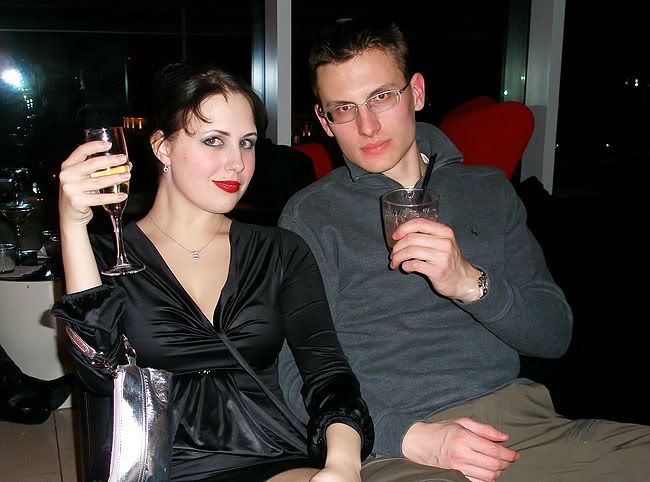 Miko and I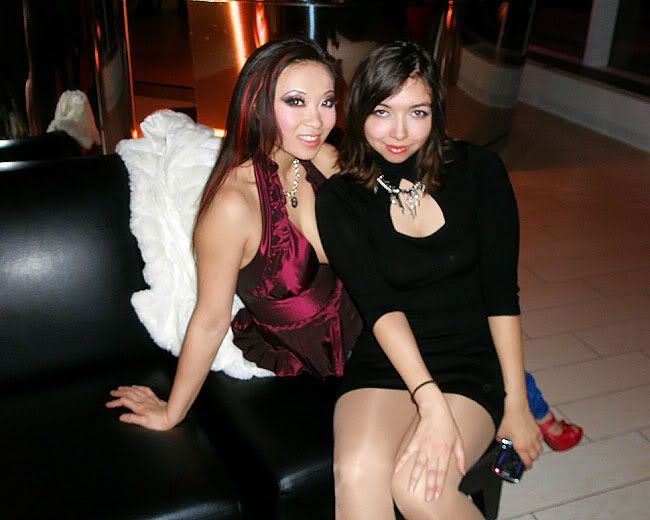 Chris, Kelly and John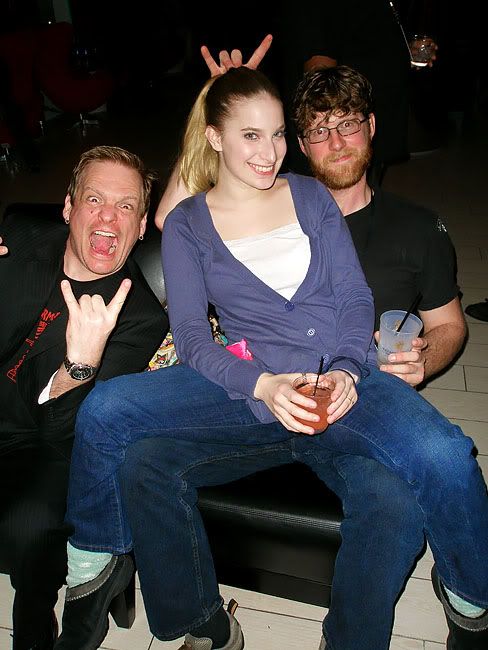 Phone pic: Anna and I drinking Bloody Marys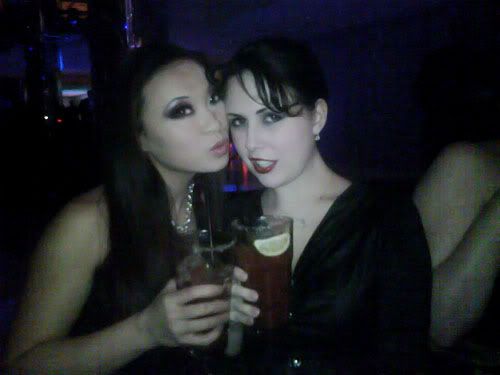 Phone Pic: I'm ambushing Brian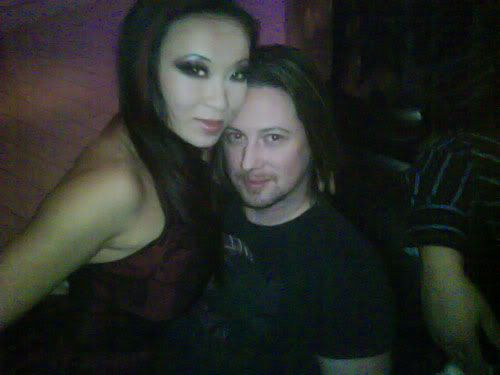 I was good and went to bed before 2am already. Heard that most people stayed up till 4am or 5am, eep. Then again, I had to get up at 8am on more time, for the last day at the booth. Mainly we said our good byes and I let Brian go off to do some product shots on Melly, Bunny and Felicia. Thank you ladies for posing for us. Also thank you to Chris, who was so nice and ordered some food for us when I forgot to eat and was stuck at the booth alone.
At 3pm it was time to pack up. Tarisa and David showed up and were simply amazing, they helped us tear down the whole booth and pack everything up, and then they helped us roll everything out to the van. Thank you SO MUCH for your help, it means a ton to us.
We drove straight on home that evening, and thankfully it was a really smooth ride and we rolled in at 6am or so.
Another con checked off! Now to get ready for Megacon!